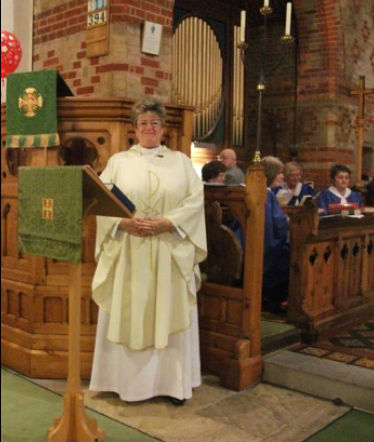 St John's is very much a family church and known as being very welcoming. We have a good number of young families, but also a good number of members who are over 55. The Church has a robed choir, which has recently seen the addition of 11 young choristers. There is also a growing Toddler Praise Group which meets on Tuesdays and a growing Junior Church meets during part of the Sunday morning service, except on the 1st Sunday when there is an All-Age Communion Service.
At present, St John's is in a period of interregnum after the retirement of our former vicar, Reverend Denise Critchell, and are being ably supported by members of the Risborough Team Ministry.
Reverend Denise was licensed to St. John's between March 2003 and August 2013, had a vital ministry to the three villages of Lacey Green, Loosley Row and Speen, plus part of Walters Ash and the Air Base. She also had a ministry to the two Church of England Schools-St. John's in Lacey Green and the other in Speen Village, going in at various times during the week and conducting assemblies each week in both schools.
In addition she was also appointed as the Anglican Chaplain to retail and local industry, plus conducted creative arts retreats across the Risborough Team area.