Junior Church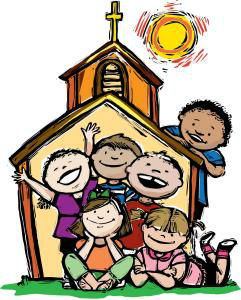 We have a thriving Junior Church with over 30 children on the register, with generally between 10 and 14 children attending most weeks. Junior Church  takes place every Sunday during school term time, with the exception of the first Sunday of each month which is given over to Family Service Worship (All-Age Service).
The teaching, in the main, follows the same lessons as the adult congregation. Each lesson consists of a small reading, an explanation of the meaning of the reading, a discussion with the children, and an activity, which varies from week to week, for example creating a poster to demonstrate understanding of the reading, colouring pages or word searches.  After the lesson, the children rejoin the main service for communion. At the end of the service they present their work to the congregation, and finish off with a prayer, which is read by one of the children.
Some of our Junior Church  children are also in the church choir and are also active outside of the regular services, helping at various fundraising events.
Junior Church is led by Suzanne Field, who is assisted by Suzanne, Caroline, Rebecca and Claire.
We always look forward to welcoming new children - please contact Suzanne for more information (see Who's Who page)
Toddler Praise
Toddler Praise meets weekly, during term time, on Tuesdays at 2pm until 3:15pm in St John's Church. It is a time of worship and praise for children up to school age and their carers.
We begin with prayer and then have a biblical story, either linking with the sermon of the week, or current festivals or age appropriate biblical story. We often use imagery, story basket and props to engage the children in learning the story.
We have Christian songs that we sing along to and learn and play instruments too. We close the worship section in prayer, then move to an activity such as craft and drawing, linked to the story, that creates something for the children to take home or for us to display in church.
We also have refreshments and snacks available and it's a good opportunity for carers to relax and chat whilst the children are playing.
Come and join us with your children and learn in a fun way the stories God has chosen for us to know more about him - please contact Rebecca London (Bex) for more information (see Who's Who page).
A Note on Child Protection
Everyone involved in the teaching and pastoral ministry among the children  of our Church has full Criminal Records Bureau (CRB) clearance.  This will change over to the Disclosure and Barring Service (DBS) as clearances are renewed.
You can view our Parish Child Protection Policy Statement online.