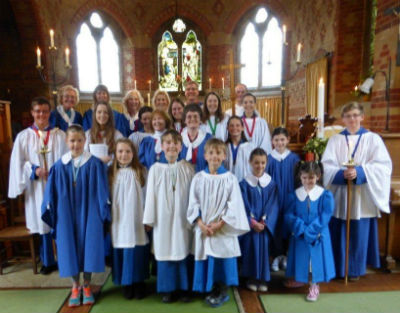 At St John's we are very fortunate to have a very active, fully-robed choir under the able direction and training of Rosemary Mortham and Cher Mole. We have a thriving junior section which plays a valued role in our choir as well as taking part in their own concerts.
In addition to our role within the church, we perform at various local events and concerts and have entered junior and senior choirs in the Buckinghamshire Festival, where both choirs acquitted themselves very well indeed.
The choir also take an active part in fund-raising throughout the year, from the Junior Church Concert and Choir Lunch for Harvest Festival to carol singing in local pubs for charity.
We would encourage mums and dads to think about bringing their children to St John's choir where they can learn to work together for God and also have an opportunity to sing not just for Him but for all of us who worship in Church.
Please contact Rosemary Mortham or Cher Mole for more information (see our Who's Who page).