At St John's we run a number of groups ably supported by our volunteers:
Men's Breakfast Group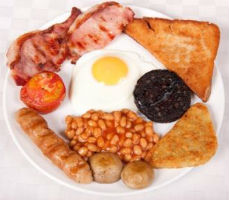 An opportunity for the men of the parish to get together for a time of fellowship, laughter and discussion. We meet several times a year in the Black Horse, one of Lacey Green's great pubs, whose breakfast is known for being of a great quality and quite sumptuous.
Once we've had a chance to catch up on each other's news and break our fast, we move to discuss our topic of the day from the perspective of Christian beliefs. This might be any subject, from issues in the world of business, to whether we would consider that Father Christmas is a Christian. I won't tell you our conclusions - I will leave you to make up your own mind.
Sign up sheets for the next meeting are located on the noticeboard at the back of the church, or contact Graham King for more information.